The Lake
The largest lake, very much the jewel in the crown of "Le Vignaud", was created by the previous owner in 1979/1980. It is over five acres and is quite simply a great place to be when the sun is shining. From mid May to mid September the water is warm enough for swimming and we have created two small sandy beaches to make it pleasanter for all ages, but especially for little ones. We provide two rowing boats, a canoe and a wind surfer, so on a warm sunny day there is usually a bit of everything going on.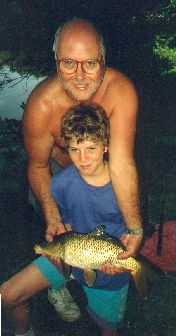 Fishing
Quite a few visitors also enjoy fishing. The big lake has large numbers of carp, roach and perch-nothing spectacularly large but those who do catch fish are struck by their clean undamaged aspect. The current record for an afternoon's catch stands at 50 carp totaling about 100 lbs weight.
In 2006, the two smaller lakes were drained and improved, and stocked with grass carp, tench and roach. The roach have certainly flourished and provide great fun for the young and novice fisher. The tench have done well, but the grass carp after doing well initially have become scarce, for whatever reason.
If all goes well, we intend draining these two lakes regularly, thus controlling and restocking the fish as necessary.
Canoeing
Several places along the river Dronne from Parcoul (3 miles north) up to Brantome (35 miles away) have canoe hire facilities. You can hire them for two hours, half a day, or a whole day - with the companies either taking you to the start of your trip, or picking you up at the end.
Horse riding
A trekking centre is right on our doorstep.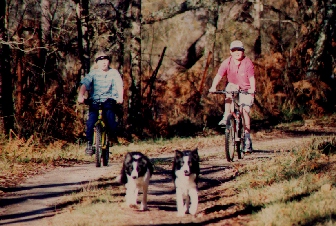 Cycling
As the local roads are very quiet and the forests are criss-crossed by well surfaced tracks (or pistes) connecting these roads, cycling in this area is a most enjoyable experience. If possible bring your own bikes. If not then we can provide up to 8 bicycles of varying size and type, all in good working order. Alternatively, you can hire mountain bikes can be hired locally.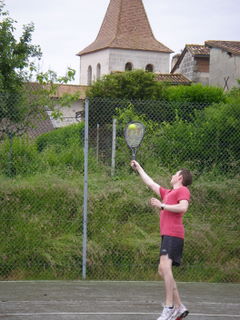 Tennis
Our local commune centre, St. Michel Léparon, 3km away has an all weather tennis court which you can use.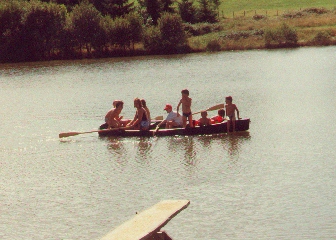 Swimming
There are many opporunities for swimming in the local area - with of 5 acre lake being where most people start! The local town, less than 3km away, also has a superb outdoor swimming pool open during the summer months. Also close by are some beautiful rivers for bathing, a leisure park with a small lake and all the celebrated attractions of the Dordogne within an easy day's outing.
Walking
The woods account for half the area of the property and to our mind are sadly ignored by many holiday makers. We try to encourage people to enjoy them by maintaining footpaths but it seems most people are reluctant to leave the big lake and its attractions. If they were to do so, then they might be rewarded by sightings of wild boar, roe and red deer, pine martin, red squirrels, fox, badger and a whole host of both woodland birds and raptors.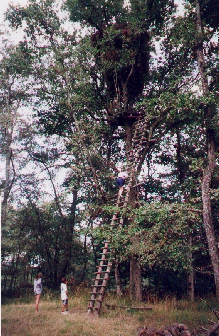 Palombière
One especially interesting feature is the "palombière". This is an elaborate hide built high in an oak tree and used for traditional autumnal shooting of migrating wood pigeons. Visits to discover the intricacies of its functioning can be arranged.