About us
No swimming pool - just a private 5 acre lake, complete with beach and island, to give you safe, warm bathing all summer long. Family sized rowing boat for fishing or just for pottering. Two other peaceful lakes over an acre each stocked for fishing.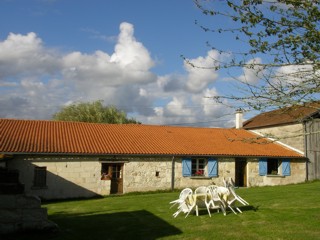 There are four farm-workers' cottages on the estate which have been carefully renovated to maintain many old features. A three-bedroomed and four-bedroomed cottage are within 100 metres of the lake: another four-bedroomed cottage along with the two-bedroomed cottage are to be found near our farmhouse, under a kilometre stroll through the woods. Each cottage has an enclosed, toddler-proof garden.
Our 250 acres of mixed woodland and grassland (we raise beef cattle and sheep) are available for you to explore; an activity made even more enjoyable by three miles of maintained footpaths.
Colourful local markets and excellent restaurants are within easy reach, as are the wonderful Bordeaux vineyards. We are always available for help, advice and information.