Introduction
Holiday cottages in France come in a bewildering number of shapes and sizes. So, what are we like?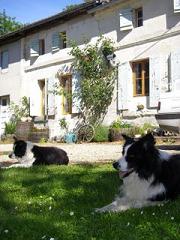 We have 4 cottages, sleeping 4 to 8 people, on a working farm in the west of the Dordogne.
What sort of person would choose "Le Vignaud" from amidst this glittering array of choices?
Someone looking for an escape to a corner of rural France largely untouched by tourist pressure but coloured by local markets and fêtes. Someone who will enjoy swimming and playing in the private 5 acre lake; pottering in a rowing boat; fishing a little, walking on the footpaths that give access to most of the 250 acres of woodland and pastureland of "Le Vignaud" and for the more energetic days there is cycling and horse riding on the almost deserted minor roads and forest tracks.